The busy holiday season is nearing and the first holiday up on everyones calendar is Halloween. It's a holiday that's as big on decorations as it is sweet treats and there are several things you can do to help you enjoy the season while not stressing you out. As an added bonus you can invite the kids or grandkids in on the fun as you celebrate the fall season with these 5 easy fun projects.
1.  Strawberry Ghosts
This simple treat tip from the CandiQuik blog that only takes a little bit of time but will be insanely cute once you are finished.
You'll simply find fresh strawberries (you'll have to wait a few more weeks before winter strawberries are in season) and dip them into melted white chocolate. Dip the strawberries until about 3/4 of it is covered.
Set aside and let dry. Then dip a toothpick it into melted milk chocolate and paint onto the strawberry eyes and a nose.
2. Strawberry Pumpkins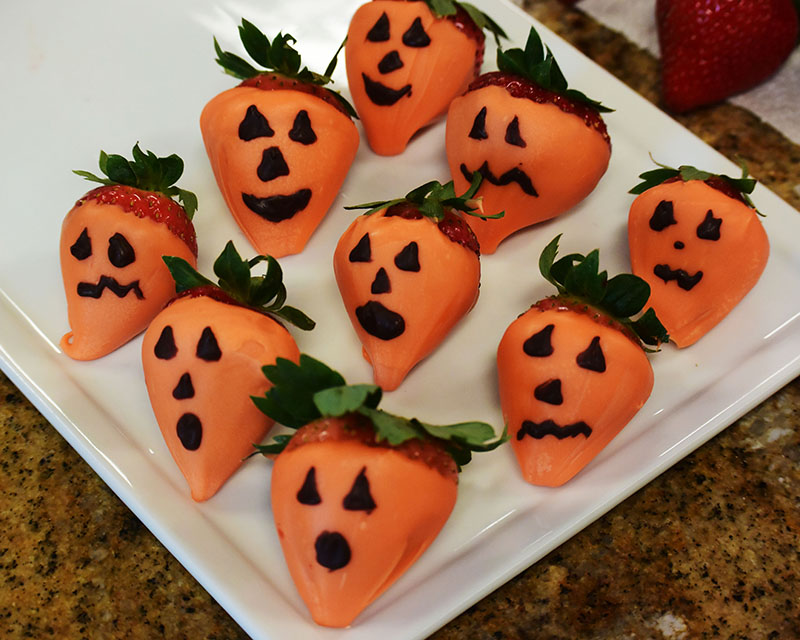 This is an easy tip that takes almost no time at all and only requires two ingredients! It comes from the awesome blog This Silly Girl's Life which is a great resource for fun projects like this.
All you need is orange candy melts (like these from Wilton's) and some fresh strawberries.
Heat up the orange candy melts in a microwave or crock pot and then dip the strawberries into the melted candy all the way to the calyx (the green stem).
Now set aside and let cool. Once the candy has fully set you can plate them and will have your very own strawberry pumpkin patch! How cool is that?
3. Halloween Finger Cookies
This terrifying treat from Domestic Sugar is perfect for a party or even for your kids to take to school during the Halloween season.
All you have to do is make your favorite shortbread cookie dough or pick up some sugar cookie dough from the store. It's hard to beat Pillsburry's pre-made Sugar Cookie dough…
Roll out the dough it to thin finger shaped cookies. Press a sliced almond into one end of the cookie dough for the fingernail and then make slices in two spots further down for the knuckles.
Bake the cookies till golden brown. Brush on some cocoa to finish the ghoulish look.
4. Pumpkin Dip Holder
This leans on the more humorous for an an adult Halloween party and comes from Amee's Savory Dish.
All you need is a pumpkin, some of your favorite guacamole or cheese dip and a love of carving pumpkins.
Carve your pumpkin as you would when you were a kid making sure to make the mouth really big and closer to the bottom.
Then fill the mouth opening with your dip and let it run out onto the platter you've placed the pumpkin on.
Surround it with some tortilla chips and get ready fro all your party goers to Instagram it! This one is definitely going to be a showstopper.
5. Egg Carton Bats
Here is an adorable Halloween decoration from the Happy Clippings blog that teaches kids all about reusing and recycling.
Everyone always has egg carton holders that they throw away or recycle after using. But what if you could use those to help decorate your house for Halloween and encourage the kids join in on the fun?
First you'll want to cut the egg carton into fourths so that each piece has three pods. Get some black paint and your kids and get to painting (outside). Cover the pods in black paint and let dry.
Let the kids glue on googly eyes, attach ribbons and hang around the house!
Now get cooking and crafting and remember to enjoy the Halloween season with kids and family.