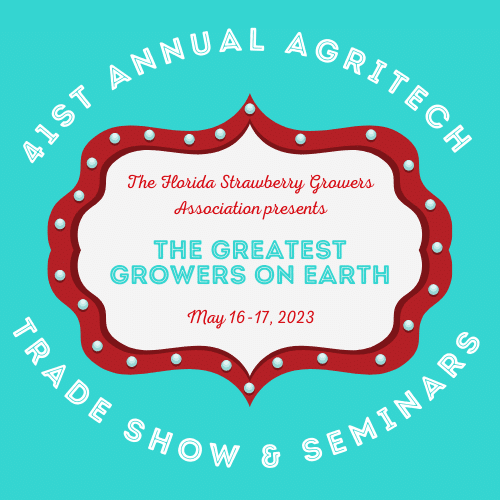 41st Annual AgriTech
View Event Details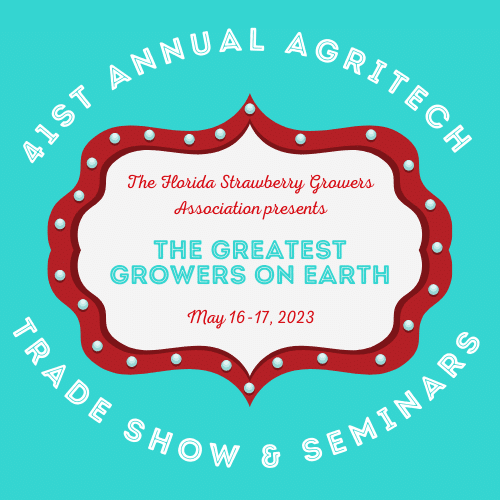 41st Annual AgriTech
Private
We look forward to another great event this year as we celebrate "The Greatest Growers on Earth!" in this year's circus themed AgriTech! Awards will be given to the top three booths that participate in the theme by decorating their booth space. Registration for Exhibitor Booth Spaces will end on Friday, May 5th. An agenda will be posted closer to the event.
Exhibitor Trade Show Registration: Allied Partnership is required to exhibit at AgriTech. To become an Allied Partner, check the status of your existing Allied Partnership, or pay for the renewal of an existing Allied Partnership, please contact Brianne Reichenbach at FSGA (Brianne@flastrawberry.com). Each Exhibitor Trade Show Registration comes with two individual Allied Partner tickets which includes breakfast and lunch on both days of the show. If your company would like to purchase additional Allied Partner tickets for others planning to attend and assist with the booth or attend the event, then please select to add the additional allied partner ticket(s) option before checkout.
Important Dates and Setup Information for Exhibitors:
Set-up: May 15th (12:00 P.M. – 5:30 P.M.)
Event Dates: May 16th – 17th
Tear Down: May 17th (*After 2 P.M.)
Location: Grimes Family Agricultural Center at the Strawberry Festival Fairgrounds
Exhibitor Registration & Allied Partnership:
Booth: $750 (per booth)
Additional Early Bird Allied Partner Ticket: $50.00 (*Early Bird Registration ends on May 5th)
Additional Allied Partner Ticket: $75.00 (*If purchased after May 5th)
Base Level Allied Partnership: $250
Bronze Level Allied Partnership: $500
Silver Level Allied Partnership: $1,000
Gold Level Allied Partnership: $2,000 (*Receives a complimentary Exhibitor Trade Show Registration)
Exhibitor Registration includes:
Breakfast and Lunch on both days for two people
8×8 Booth Space
8′ High Backdrop
3′ High Sides
2 Chairs
One 6′ Table
Electricity (*Upon request): 5 Amp 120 Volt
*Sponsorships are available for Breakfast, Break, and Lunch on both days of the show, please contact Brianne@flastrawberry.com for more information and to secure one of these opportunities. The sponsorships are available on a first-come first-serve basis.
Tuesday or Wednesday Break: $750
Tuesday or Wednesday Breakfast: $1,000
Tuesday or Wednesday Lunch: $2,000
*All sponsorships include signage at the time and place of sponsorship, company name written in the agenda, time at the podium during the seminars to address the attendees (*up to 5 minutes).
Individual Allied Partner Registration: Allied Partners not wanting to exhibit in the trade show are welcomed to attend the event individually. Registration includes: entrance to the event for both days, breakfast, and lunch. The deadline to purchase tickets at the Early Bird rate is Friday, May 5th.
Pre-Registration for Individual Allied Partners: $50.00 (*Deadline for Early Bird Pricing is May 5th)
Late Registration for Individual Allied Partners: $75.00